TX528 thixotropic contact adhesive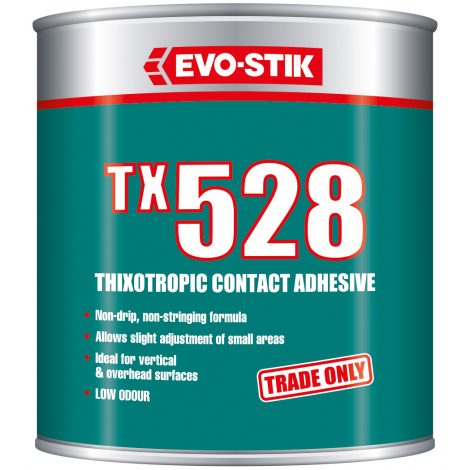 Available colours
Colour indications are a guide only
Buy now
Features and benefits
Features and benefits
Multipurpose, repositionable thixotropic contact adhesive
Non-drip, non-stringing formula
High initial grab properties whilst allowing slight adjustment of small areas
Ideal for vertical and overhead surfaces
Good temperature resistance
Low odour
Suitable for interior use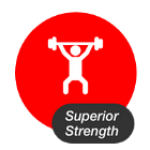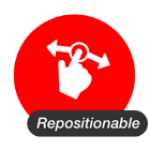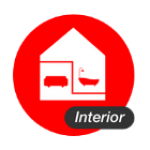 EVO-STIK TX528 Thixotropic Contact Adhesive is a multipurpose, repositionable contact adhesive which is clean and easy-to-apply. It's ideal for use on both vertical and horizontal surfaces thanks to its non-drip, non-stringing formulation.
EVO-STIK TX528 has high intial grab properties whilst allowing for slight adjustment of small areas, before providing an excellent final bond strength. Plus, it has good temperature resistance which ensures a long-lasting bond, whilst having low odour during application.
The TX528 Contact Adhesive is particularly suitable for bonding decorative plastic sheets and other rigid plastics such as PVC and ABS to wood, metal and wood composite boards. Plus, this EVO-STIK thixotropic contact adhesive works on cane fibre boards and acoustic tiles that are to be bonded to dry cement or sand renders.
Available as 1L and 5L tins of thixotropic contact adhesive in translucent amber.
Suitable materials: Decorative laminates, rigid PVC, wood, chipboard, hardboard, cork, leather, rubber, stone, metal, ceramics, glass, insulating fibreboards and acoustic tiles.
Sizes: 1 litre or 5 litre.
Coverage: 4-6m² per litre per coat, depending on the surface.
---
Frequently Asked Questions
On porous surfaces, the adhesive should be dry within 15 to 20 minutes. On non-porous surfaces it should be dry within 25 to 35 minutes.
No, EVO-STIK TX528 Thixotropic Contact Adhesive is not suitable for these applications.