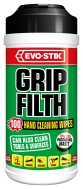 EVO-STIK has introduced a new tub of 100 hard working GRIP FILTH cleaning wipes, which will instantly remove a wide range of building substances and dirt from hands, tools and surfaces.
Ideal for use on site and for tradespeople on the move where access to washing facilities is at a premium, GRIP FILTH wipes are dermatologically tested and contain an antibacterial additive, meaning they're tough on filth but gentle on hands.
Formulated to easily remove common building substances such as oil, grease, paint, sealant, adhesive and much more, the hard working wipes are supplied in an attractive and compact tub for easy storage and less waste.